Thursday, September 1, 2016 at 5:01PM
DAIRY TOURS WITH FARMER SHAYN
In light of what appears to be a press release by the Utah Department of Health, with an obvious bias for pasteurized milk, we have had some inquiries on the testing of our milk. We follow all of the state testing procedures for on-farm milk sales. We also send milk samples to an independent lab so we can keep tabs on where things are, but the final testing lies with the state lab, and we have a state inspector who comes on a regular basis to take their own samples to be tested.
Ultimately, we feel the health of our milk is dependent upon our cleanliness procedures in our dairy. We are vigilant about the health of our dairy cattle and cleanliness of our parlor, which we believe makes the difference in great raw milk. We do what we can to keep our milk as clean as possible.
In an effort to maintain transparency throughout our farm, we are inviting all who have an interest to take a tour of our dairy barn with Farmer Shayn and ask questions. Those who visit will be able to see the cleanliness of our parlor and get information on our milk testing & procedures. Currently, tours will be available on the following dates:
September 1: 3pm & 4pm
September 3: 1pm & 2pm
September 6: 3pm & 4pm
September 8: 3pm & 4pm
September 10: 1pm & 2pm
Simply meet at our farm store and let us know you're here for the tour.
If you have further questions we're always available by phone or email also. Thank you for your continued support of real, healthy, local food!

MEET YOUR MEAT
Check out this recent article from Utah Business about our farm:

Meet Your Meat: Going Direct to Utah Farmers & Butchers

SLEEPING BEAUTY
This little lady was napping in the dairy barn while waiting for mom to be milked - isn't she sweet? We hope you've had a chance to meet some of our calves. There are always a couple of them hanging out right next to the farm store.



BULK ORDERS
Our next bulk orders will be available OCTOBER 13 & 15. Deposits are due SATURDAY, SEPTEMBER 24. Corriente & Angus beef, pork, and lamb are all currently available. Do you want to try our meat before you make a big purchase? Stop by our farm store and pick up some separate cuts.

And our salmon will be arriving around the end of next week! We are still accepting deposits for bulk salmon orders. This sushi-grade, wild-caught Alaskan salmon is amazing! Don't miss your chance to stock your freezer with the freshest sockeye salmon around.



MORNING CHORES
Making the rounds one morning on their daily sprout delivery to the animals. Everyone receives fresh sprouts from our greenhouses each day.



WHERE WILL YOUR MILK TAKE YOU?
This time it was Lake Solitude up Big Cottonwood Canyon. Our milk pints are so great to travel with - we threw a couple in our bag with a small ice pack and the kids gulped them down when we stopped at the top. Make sure to get out and enjoy this beUTAHful state we live in!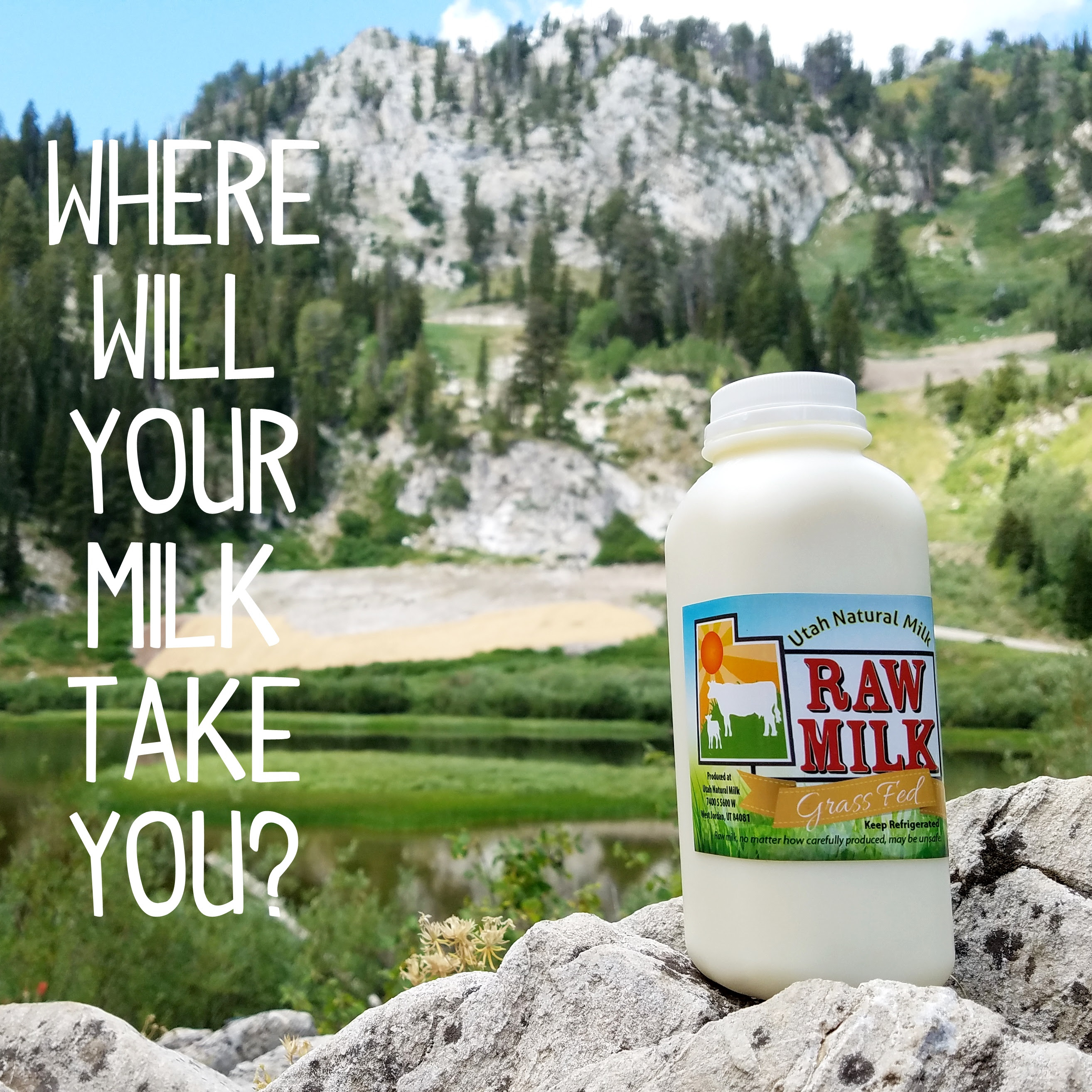 FARM HUMOR