Pork
Pork orders will be ready to pick up June 13 & 15. Deposits are due by Saturday, May 25. Your deposit will hold your meat until that time. We are happy to guide you through the ordering process -you can find our contact information HERE.
(In addition to bulk orders, we also offer pork in separate cuts. For more information, including pricing, please visit our separate cuts page HERE.)
Important Ordering Information:
All deposits are non-refundable.

This is a DEPOSIT to hold your meat. It is NOT your order total.

Our prices are based on the hanging weight of the pig which is the weight of the meat before packaging. The hanging weight of a whole pig can range from 120 lbs to 180 lbs.
When you place your deposit you will receive an order confirmation by e-mail (please use a current e-mail address). Once the meat is at the butcher for processing we will know the exact hanging weight of your order. At that time we will contact you by e-mail with the BALANCE DUE and details for pick-up from our farm in West Jordan, Utah.
We schedule pick-up for Thursday afternoons & Saturday mornings.

If your meat is not picked up by Saturday, we charge a $20 fee per day to store it for you.

When the meat is packaged it is wrapped in plastic and then butcher paper. Each cut is clearly labeled. Vacuum packaging is available through Custom Processing.
We butcher on a monthly basis.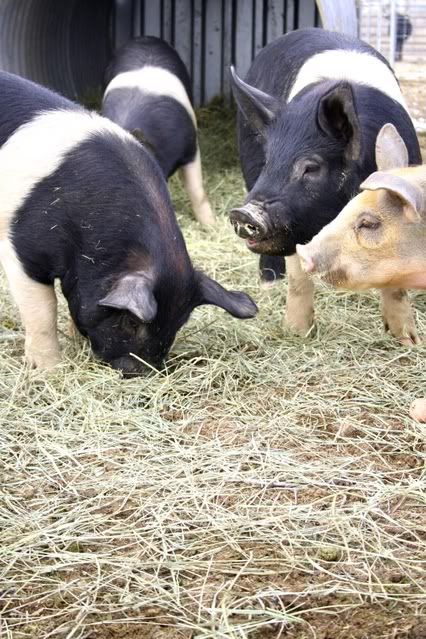 Our pigs are happy pigs! They spend their days outside in the sunshine and fresh air, with plenty of space to root and grass to lay in. They receive no antibiotics or growth hormones. Their diets are made up of grass, alfalfa hay and grains. You can purchase our pork with confidence, knowing these pigs have been treated humanely and are clean and healthy.
When purchasing, please keep in mind the average hanging weight of our pigs:
Whole Pork - average hanging weight 120-180 pounds
Half Pork - average hanging weight 60-90 pounds
1. CURED PORK: $4.25/lb. hanging weight. This package includes a selection of the following cuts -
Chops
Roasts
Ham (cured without the use of sodium nitrate)
Ham Steaks (cured without the use of sodium nitrate)
Bacon (cured without the use of sodium nitrate)
Spare Ribs
Breakfast Sausage (no MSG, BHA or BHT)
Our butcher's curing process does not include the use of sodium nitrate, MSG or preservatives such as BHA & BHT.
Your Cost:
Whole Pork: $510 - $765
Half Pork: $255 - $382
Taking orders for June 13 & 15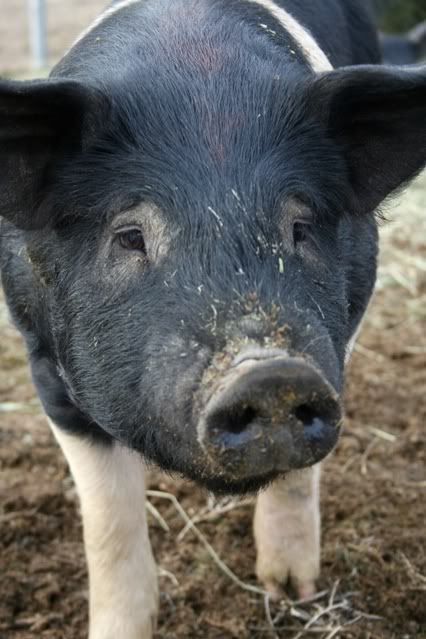 2. FRESH PORK (UNCURED): $4.00/lb. hanging weight. This package includes a selection of the following cuts -
Chops
Roasts
Ham (fresh) - will be similar to a pork roast
Pork Side (uncured bacon)
Spare Ribs
Ground Pork
Your Cost:
Whole Pork: $480 - $720
Half Pork: $240 - $360
Taking orders for June 13 & 15
3. CUSTOM PROCESSING: Available for whole pork only. $4.50/lb. hanging weight. You have the option to choose the following -
Which cuts you would like, including any specialty cuts
Choose from cured and fresh pork options
Specifications of packaging
Vacuum packaging
Custom processing is only offered in whole pork quantities
Your Cost:
Whole Pork: $540 - $810
Half Pork: $270 - $405
Taking orders for June 13 & 15